Organizational Tips for Custom Pole Barns in Cumberland
Wednesday, 15 September 2021 11:30
Ashley Johns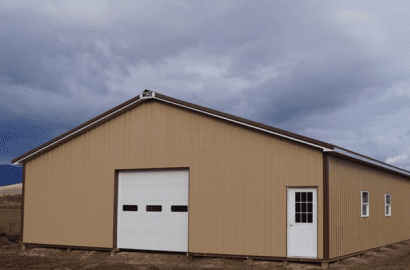 Your custom pole barn in Cumberland can be used for a wide variety of things. But when you have a building that is so versatile, you want to do everything inside, and that leads to lots of clutter. With so many tools and supplies floating around, it can be hard to keep your pole barn organized. As one of the leading Cumberland pole barn builders, MQS Structures has some advice on how to keep your building from turning into an unorganized mess.
Use Shelving
In a perfect world, we could all have giant barns where space is never an issue, but for most people, that isn't realistic. Many people have a specific budget and a certain amount of space that limits the size of their Cumberland custom pole barn. So to maximize space, many barn owners will purchase open shelving that is normally placed on the barn's exterior walls. These provide a solid option when you need to stack supplies and tools that otherwise would be randomly placed throughout the structure.
Pegboard
When you work on a farm, a toolbox just isn't big enough to accommodate all the tools you need. So you may need to get creative and use your exterior walls for tool storage. One of the best ways to do that is by adding a few sections of pegboard for smaller tools so they are organized and easily accessible.
Pegboard is perfect for items like wrenches, hammers, screwdrivers, and other handheld tools that can get easily buried in drawers or a toolbox. Just make sure to have plenty of peg hooks on hand so that you can hang as many tools as you wish inside your Cumberland pole building.
Your barn may be the best place on the farm for you to work on small projects. Whether it's woodworking, welding, drilling, etc., you need a space where you can comfortably do all your necessary DIY tasks. That's why many farmers choose to add a workbench inside their farm building in Cumberland. A workbench can be versatile as well; many people choose to add cabinets underneath the working area so they have plenty of room for small tools and supplies that can come in handy when working on projects.
 Install Some Hose Hooks
During the spring and summer, it is perfectly fine for your garden hoses to be stored outdoors, but when cold weather hits, it is wise to move all hoses inside. Doing this will prevent leaks and cracks that may occur if the hoses become frozen. One of the most efficient ways to store hoses is by adding a few hose hooks on the exterior walls. Hose hooks will keep hoses rolled up and out of the way until the weather improves and they can be stored outside again. You can also use hose hooks to hang items like rope and extension cords when they are not in use.
If you are thinking about adding a new agricultural building, barn, or garage to your property, contact MQS Structures today. Our team of Cumberland pole barn builders will help construct the perfect structure to help make life on the farm much more efficient.
Give us a call today at (855) MQS-3334 or contact us online to receive a free estimate. We look forward to working with you!