Category Archives:
Uncategorized
Options to Add Onto Your Pole Barn In Ohio
Saturday, 15 June 2019 09:32
Austin Kershaw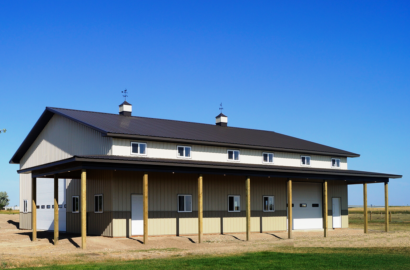 Are you getting ready to work with Amish barn builders in Ohio to construct a pole barn for your property? Does your current barn need updated features? Lucky for you there are many options to add onto your pole barn. If you want to add some more curb appeal to your building, MQS Structures is the best place to do business with for custom pole barns in Ohio, as we offer a variety of functional add-ons to upgrade your building.  Here are some great options to add onto your pole barn in Ohio. 
Lean-to  
There are three different lean-to's to choose from: wrap around, partly closed, and open. Another name for lean-to is a side porch. With an open lean-to, you are essentially adding on a covered porch to the side of your pole barn that you can also have wrap around, while a partly closed lean-to is the same concept except closed off. A side porch is great to provide a covering for an entrance or have an area to sit outside.    
Inside office 
When we build a pole building in Ohio that will be used for commercial reasons or a warehouse, many clients choose to add an office inside. It looks similar to a small mobile home and provides an excellent space for office work.  
Dormer 
A dormer is often seen on homes, but can also be added to pole barns as well. It is a window that projects vertically from the roof to typically provide additional space to a loft or attic. If you want to increase the curb appeal of your farm buildings in Ohio, we suggest adding a dormer.  
Wainscot 
Wainscot was a common feature in homes around the 18th century. It is a decorative wall trim on the lower part of a wall that was initially installed to provide insulation. Wainscot is an excellent feature to add to a pole building in Ohio to protect the exterior from dents and dings, but also adds curb appeal as well.   
Garage door 
At MQS Structures, we offer commercial, residential, and carriage style garage doors. For agricultural buildings in Ohio, garage doors are ideal to allow easy access for livestock and large farming equipment. 
Cupola 
A cupola is a small dome-like structure that sits atop the ridge of a roof. Cupola's are both functional and ornamental. Custom horse barn builders in Ohio suggest adding a cupola to provide ventilation to the building and also to let light and air into a dark loft area. 
Pole Barn Terminology In Ohio
Saturday, 01 June 2019 09:31
Austin Kershaw
When it comes to building custom pole barns in Ohio, there are quite a bit of terms that are used. To give you a better understanding, we will discuss pole barn terminology in this article.  Here is pole barn terminology in Ohio that you need to know! 
Truss 
A structural framework of engineered wooden beams that act as the support system for the roof of a pole building in Ohio. 
Gable 
A classic roof shape that has two sloping sides that come together to create a triangular extension. 
Overhang 
The amount of length of the roof that hangs past the side of the building.  
Wainscot 
The lower portion on the exterior wall of farm buildings in Ohio that protect the siding against chips and dings and add aesthetic features as well.   
Cupola 
A dome-like structure that sits atop the roof of agricultural buildings in Ohio to provide ventilation and light into a building. 
Post-frame 
The construction process for pole barns that consist of laminated or solid sawn columns. It meets the standards for UBC and IBC. 
Ridge 
The horizontal line on the peak of a roof that runs the length of the building. 
Purlin 
A horizontal beam that is attached to trusses to support the roofs decking. 
Bay 
The distance between post-frames that support the longitudinal length of the building, typically 10 to 12 feet. 
Sheathing 
Plywood, steel, or OSB material that covers the roof of a building and transfers roof load to trusses. 
Eave 
The edge or area of a building that sticks out where the wall and roof of a pole building in Ohio meet. 
There are obviously many more terms that are used when discussing the construction process of custom pole barns in Ohio; however, these are just a few of the most commonly used terms. When working with Amish barn builders in Ohio, like at MQS Structures, they will work with you in understanding the process of construction and define any terms you may not understand.  
Different Ways You Can Use a Pole Barn
Wednesday, 15 May 2019 11:20
Austin Kershaw
From commercial usage to residential, there are no limits to what a pole barn can be used for. At MQS Structures, we've seen our custom pole barns in Ohio built for just about everything.
Whether you need extra space for storage or an affordable building option when starting a business, consider building a pole barn to fit your needs! If you're interested in the different ways you can use a pole barn for more than just agricultural buildings in Ohio, read on.
Warehouse
Pole barns are ideal for warehouses, as you can make a pole barn as big as you need. By adding split siding doors or steel insulated garage doors, you can quickly move large equipment in and out.
Storage
Do you have an RV, large lake floaties, lawn equipment, or just a lot of stuff? Custom post frame builders in Ohio have constructed many pole barns for the intended use of storage.
Garage
You can never go wrong with extra garage space. If you have several cars, antique cars, a camper, or off-road vehicles, pole barns make for an excellent garage. If you already have a pole building in Ohio as a garage and need more room, you can always add a partly closed lean-to.
Hobby Shop
Does your hobby require quite a bit of space? Hobbies like painting, woodwork, and auto repair are all great examples of hobbies that could benefit from the space a pole building in Ohio can provide.
Equestrian
Pole barns are very beneficial farm buildings in Ohio. From housing horses to an indoor riding arena, equestrian centers need a lot of space, and pole barns can provide that at a decent price. Optimize your barn with more storage by working with Amish horse barn builders in Ohio to build stairs that lead to attic space. An attic is a great spot to store hay.
Advantages of Pole Barns
Tuesday, 07 May 2019 11:20
Austin Kershaw
When looking to construct farm buildings in Ohio, you will find there is no better framing system than that of pole barns. At MQS Structures, we build custom pole barns in Ohio for those looking to add an affordable and durable building that will last.
Pole barns are built using post-frame construction. Post-frame is a wood-frame building system that has become the method of choice when constructing commercial, industrial, recreational, and agricultural buildings.
There are many advantages of pole barns that make it an extremely popular choice among Amish barn builders in Ohio.
Affordable
One of the most significant benefits of pole barns is its affordability. Pole barns don't require a concrete foundation or as much material for construction than traditional barns do.
Versatile
A pole barn doesn't have to solely be used for what people typically think a barn is. Pole barns can serve as agricultural buildings in Ohio, a residential structure, a garage, a hobby shop or man cave, a recreational center, commercial space, storage and so much more! There are no limits to what you can use a pole building in Ohio for.
Less Material
As mentioned earlier, what makes a pole barn very affordable is the minimal amount of material needed. Unlike a stick or metal frame structure, pole barn framing can span much further in width and provide a broad, open space that doesn't require load-bearing walls or intrusive columns.
Quick to Build
Because pole barns don't have an intense framing process or structure, custom post frame builders in Ohio can construct a pole barn in the fraction of the time of a traditional barn.
Customizable
Not only are pole barns versatile, they are also extremely customizable as well. At MQS Structures, our Amish barn builders in Ohio offer our customers a variety of useful amenities they can add to their barn. From different exterior colors, wainscot, insulated windows, cupolas, and overhangs, you can customize your barn to your needs.
Saving Money When Building Your Pole Barn
Monday, 15 April 2019 19:49
Austin Kershaw
When designing the plan for your custom pole building in Ohio, you want to make sure it is has everything you need, is built to your standards, and includes beautiful features… but without breaking your bank. While custom pole barns in Ohio are a relatively inexpensive building option, you still want to make sure you don't end up in a huge financial pickle.
Here are eight simple money-saving tricks to consider when discussing your design plan with custom post frame builders in Ohio.
1. Research your options on contractors and ask the right questions. Amish barn builders in Ohio who have a background in pole buildings are highly skilled professionals who will provide quality customer service and ensure you are making the best decisions for your building.
2. Wider spaced columns will allow you to save both time and money on labor. The spacing of columns is generally between 6 to 10 feet. With a careful design to reduce the number of columns and trusses needed, you'll reduce your bill by a good amount.
3. Adding wainscot to the lower section of the exterior will protect your building from any abuse and dents it may receive from large equipment. Replacing a section of wainscot is much cheaper and easier than replacing the entire wall.
4. Sliding doors instead of overhead garage doors are generally a less expensive door option. For agricultural farm buildings in Ohio, sliding doors are a great option, as they are easy to use and can open as far as you need. This, in turn, helps retain heat.
5. Choose add-ons wisely. It's not wrong to want your building looking attractive on the inside and out; however, choosing too many add-ons can quickly raise your bill. From cupolas to overhangs, research your options and carefully select what add-ons will benefit you and your building the most.
6. Choosing durable materials will allow you to save money in the long run. While there may be cheaper options available for siding and doors, you can save money up front by investing in the more durable materials that are a tad more expensive. As a result, you'll spend less on repairs in the future.
7. Control condensation before it begins by either installing a commercial membrane or purchasing DripStop. Both will protect against and control condensation in your building, if it is not insulated. This can save you thousands of dollars rather than investing in ceiling insulation.
8. Appropriate insulation is critical in saving money on your pole barn. There are many insulation material options to choose from, so carefully consider which one will be best for your pole building in Ohio. For example, a steel liner system is much cheaper than drywall and is easier to install.
When discussing with custom post frame builders in Ohio, communicate your budget with your contractor so they can help ensure you're receiving the most bang for your buck.