Category Archives:
Uncategorized
Exterior Design Options for a Pole Barn 
Friday, 23 August 2019 05:55
Ashley Johns
The exterior of your pole building in Ohio is just as important as the interior, which is why we at MQS Structures offer an array of exterior design options to include on your custom pole barns in Ohio. 
Lean-to 
A lean-to is a structure that is extended off an existing building with rafters leaning against a wall. Types of lean-tos we offer at MQS Structures include an open lean-to, partly closed lean-to, and a lean-to wrap around. In simple terms, a lean-to looks like a roof that has extended on one side of the building to serve as shelter or additional storage. 
Vinyl Siding 
Our custom post frame builders in Ohio often find customers wanting their pole barn to match, or look similar, to their house. Today, many homes have vinyl siding, which is why we offer it to add to farm buildings in Ohio. 
Wainscot 
Wainscot was a very common addition to rooms in homes back in the day. It is a type of wooden paneling that lines the lower half of walls. Its original purpose was to protect homes against dampness, but then became more of a decorative feature once home construction improved. Today wainscot is added to the exterior of agricultural buildings in Ohio to serve as a protection against dings and scratches. 
Cupola  
Many of our customers, whether they're building a garage hobby shop in Ohio or farm buildings in Ohio, often include a cupola in the design of their pole barn. Cupolas provide great ventilation to help keep hay dry in the loft, as well as add a nice aesthetic to the overall structure. 
What You Need to Know About Cupolas 
Friday, 16 August 2019 05:49
Ashley Johns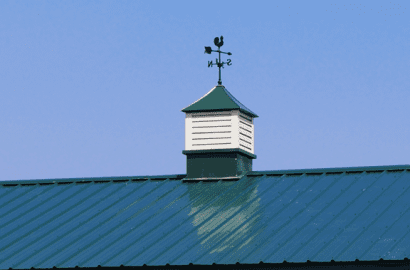 A cupola (pronounced "kyou'puh luh") is an architectural dome that sits atop the roof of a building. This structure ranges in size and shape, from the ones you see on farm buildings in Ohio to ornate, historical buildings in Rome. Cupolas are both functional and ornamental and have been around for centuries. In this article, we're going to explore the history of them and what you need to know about cupolas on agricultural buildings in Ohio. 
The History of Cupolas 
Because cupolas are found on both ancient architectural buildings as well as simple barns in the countryside, it's uncertain as to what the ultimate purpose of them was. However, since we're discussing farm buildings in Ohio, many farmers long ago believed that tightening their barns by covering the cracks between the sheathing boards would help reduce drafts and the amount of food required by the cattle during the winter. What they found, however, was that with no proper ventilation, along with the breath from the cattle and the rising manure vapors due to the warmth of the barn, became a never-ending cycle when the doors were opened, thus damaging many barns. 
To fix this problem, farmers began installing wooden louvered boxes on the roofs near the ridge of the barn over an opening to serve as ventilators. In doing so, they also found that it provided a great deal of natural lighting, kept haystacks dry in the loft, and even brought a sort of aesthetic to the exterior of the barn.  
Cupolas Today 
Years ago cupolas on a pole building in Ohio served both functional and ornamental purposes, and they still do today! Cupolas are a great addition to anything from a garage hobby shop in Ohio to farm buildings in Ohio. Ventilation is extremely important to any structure to allow heat and moisture to escape and prevent the growth of mold. Many of our custom post frame builders in Ohio see people adding unique weather vanes to cupolas for a personalized touch.   
What to Include in Your Horse Barn 
Thursday, 08 August 2019 05:46
Ashley Johns
At MQS Structures, we specialize in four main kinds of custom pole barns in Ohio – horse barns, agricultural, commercial/industrial, and garage/hobby shops. Many of the clients that come to us are looking for a beautiful barn for their horses. With our unique post frame techniques, we are able to provide clear spans to our customers, along with an array of add-ons to complete the look of their pole building in Ohio. The following are some ideas for what to include in your horse barn for style, convenience, and safety.  
Cupola 
A cupola is a box that sits atop farm buildings in Ohio that many people believe act as a building accessory; however, cupolas do much more than sit there and look pretty. The original purpose of a cupola was to bring natural light into a building and ventilate the loft area. 
Dutch or Split Slider Door 
We offer a few styles of doors, but custom post frame builders in Ohio highly recommend Dutch or Split Slider doors for the convenience of bringing horses and other large animals in and out of the barn. 
Wash Stall 
Horses deserve to be well groomed too, just like us humans. Many customers choose to add a wash stall to their pole barn, as it is a large enough space for washing large animals like horses. 
Tack Room 
A tack room is like a horse's closet. Our custom horse barn builders in Ohio suggest including a tack room in the design of your pole barn to store all of your saddles, helmets, and other equipment so that it's all in one place. 
Loft 
A lot of our customers design their farm buildings in Ohio with a loft in mind. Lofts serve as a great place to store hay, and the addition of a cupola will provide continuous airflow to help keep the hay dry. 
Indoor Riding Arena 
An indoor riding arena is an excellent inclusion for agricultural buildings in Ohio as it won't get affected by the weather outdoors.   
Preparing to Build a Pole Barn 
Thursday, 01 August 2019 06:43
Ashley Johns
To construct a pole building in Ohio, site preparation is less extensive than other buildings, which makes it less expensive and more efficient. Before a pole barn is constructed, custom post frame builders in Ohio must first make sure that the site is leveled and ready to be built on. If you plan on getting a pole barn anytime soon, here is what you should expect when preparing to build a pole barn.  
Choosing a Site 
The first step is deciding where on your property you want your building to be. It's a smart idea that you consider room for future expansion. Many times we often see people wanting to expand their custom pole barns in Ohio, but chose to build on land that doesn't have additional room. 
Local Codes 
Before construction can even begin, you will need to check with your local building department on zoning requirements and if you need a building permit or not. This is super important to avoid getting in trouble with the law and whether or not your farm buildings in Ohio can be built where you want them to be.  
Site Preparation 
Once you have your site picked out and it meets local code requirements, it then needs to be ready for custom horse barn builders in Ohio to begin construction. This includes surface leveling, clearing the site of sod and vegetation, grade leveling, and planning for drainage.  
After the site is prepared and ready to go, custom post frame builders in Ohio will then have the okay to start building your dream pole barn. At MQS Structures, we are committed to providing you a building that will meet your needs at a competitive price. One advantage of our farm buildings in Ohio is more lumber! We want your pole barn to pass the test of time. 
Five Considerations To Make For Your Pole Barn In Ohio
Saturday, 20 July 2019 10:47
Ashley Johns
You've finally decided to build custom pole barns in Ohio, but where do you start? Fortunately, a pole barn is one of the easiest and fastest ways to construct a barn, but there are some factors you will need to make before starting construction. Here are five considerations to make for your pole barn: 
Your Needs
Before you build any pole building in Ohio, you first need to figure out your needs. Why are you building a barn? What are you using it for? Are you looking to build storage buildings, a garage, a hobby shop, or agricultural buildings in Ohio? Answering these questions is crucial in figuring out the rest.  
Permits/City Ordinances
Check with your city's building codes and ordinances. Some cities are more lenient, while others have strict requirements. For example, many buildings have to be a certain amount of feet away from the property line. Ensure you aren't breaking any codes, as it could cost you a lot. 
Location and Site Preparation
Where on your property do you plan on placing your building? Is the land leveled enough? Along with distance from the property line, another consideration to make for the construction process is making sure large construction equipment has a way to get in and off the property and that there's enough room for custom post frame builders in Ohio to actually build.  
Aesthetics
There are a lot of features you can choose to add to your pole building in Ohio. The purpose of your building will determine what you need to include. For example, farm buildings in Ohio that will house livestock will need to have either a garage door or large sliding doors to move large animals in and out.  
Choosing the Best Builder
Now that you have determined your needs for a pole barn, researched city codes, located a site, and have an idea for aesthetic features, it's now time to choose the best builder for the job. At MQS Structures, our custom post frame builders in Ohio are the best in the business and will work with you to ensure you receive your dream barn!