Category Archives:
Uncategorized
Pole Barn Codes and Regulations
Monday, 10 August 2020 06:26
Ashley Johns
Constructing a pole building in Ohio is no different than constructing a traditional home when it comes to codes and regulations. Are you considering constructing a barn on your property? You need to follow a few pole barn codes and regulations to avoid getting in trouble.
Permits
Depending on where you live, you may have to obtain a permit before building any agricultural buildings on your land. For example, some cities and towns may restrict where you can and cannot build on a piece of land. Some setbacks may include distance from property lines, distance between buildings, height and width, etc. When working with Amish barn builders in Ohio, it's important that you check to see if you need a permit to build. For instance, here at MQS Structures, we make it the customer's responsibility to apply for a permit if it is required.
Zoning
Along with obtaining a permit, you also must determine if you are zoned to build farm buildings in Ohio. Zoning dictates building usage and position, setbacks, drainage, ordinances, frontage, etc. Checking with your local zoning board before breaking ground is crucial in order to build your barn properly.
Electricity
A few considerations must be made if you want to add electricity to post frame buildings. For example, how you intend to use your barn will determine how much energy will be required. How much amps will be used to power agricultural buildings will also determine where the energy will come from. By this, we mean you may be able to wire energy from your home's service panel, or you may need to contact a local utility company to supply the energy. Any electrical work should be taken very seriously, as it is dangerous and challenging and requires a professional electrician.
As much of a hassle codes and regulations of pole barn buildings may be, they are in place for your safety and benefit. If you have any questions about how to go about complying with your town's regulations, we are more than happy to discuss plans with you. However, you will eventually need to contact your local building department for specific questions.
Contact MQS Structures
If you're ready to build a new pole barn, contact MQS Structures today! Our pole barn builders in Ohio are ready to help you design and construct the barn of your dreams. Request a quote from us through our online form or call us at 855-677-3334.
Pole Barn Kit vs Custom Built Barns
Monday, 03 August 2020 05:12
Ashley Johns
When you finally decide you need to add one or a few agricultural buildings in Ohio on your property, you have the option to either purchase a pole barn kit or work with Amish barn builders in Ohio to build you a custom barn. But which option is the best choice for you? After doing some research, you may find that a building kit will save you money, but as trust-worthy pole barn builders in Ohio, we're here to inform you about the difference between a pole barn kit vs custom built barns and why a custom pole barn is your best choice.
Cost
The first and most significant reason why people choose a pole barn kit over a custom barns is because of the price. You don't have to pay for labor costs and tools with a pole barn kit since you build it yourself. The only things you pay for with a kit are the materials. Meanwhile, when you purchase a custom barn built by Amish barn builders in Ohio, you pay for the materials and labor, making it a bit pricier than a kit. However, while you may pay more money up front with a custom barn, you will receive more bang for your buck down the road. Like they say, you get what you pay for.
Labor
While a pole barn kit is a DIY project, a custom barn is constructed by a professional crew of barn builders. Labor time is an important consideration to make, especially if you plan on building it yourself. For instance, will you have the time to build it? Who will help you put up the siding and trusses? Do you have all the necessary tools to build? These are all crucial questions you must ask if you go the pole barn kit route. The benefit of having a custom-built barn is that a labor crew is provided and they have the necessary experience with construction tools and materials.
Warranty
Warranties are an essential factor of any pole building in Ohio. A warranty is a guarantee manufacturers make to consumers, promising the quality of their product and service. One of the biggest benefits of custom barns built by a pole barn company is the multiple warranties that are included. For example, all of our farm buildings in Ohio are backed with a 50-year column warranty, 40-year steel warranty, 10-year garage door warranty, and 1-year workmanship warranty.
Because a pole barn kit is a DIY project, there is no workmanship warranty, making custom barns the clear winner when comparing the two.
Material
When you choose to have your pole barn built by a professional barn company, you can rest comfortably knowing they will use only the highest quality materials. From the steel, posts, windows, and doors, every feature of custom pole barns in Ohio are top-notch. On the other hand, because a pole barn kit is much cheaper than a custom barn, you will likely receive lower-quality materials.
In the end, it is up to you whether you choose a pole barn kit or a custom built barn. However, when you compare the pros and cons, a custom barn is the much more beneficial option. If you're ready to have a new pole barn, request a quote from us via our online form today!
Benefits of Having a Pole Barn on Your Property
Wednesday, 22 July 2020 07:14
Ashley Johns
Looking to add more storage in your life? There are a few benefits of having a pole barn on your property if you need more space or room for your belongings.
Affordability
The simple design and fewer materials it takes to construct post frame buildings in Ohio are one of the main reasons why so many people prefer pole barns. Additionally, custom pole barns in Ohio do not take very long to build, which helps at the affordability aspect.
Customizable
From size to aesthetics, agricultural buildings in Ohio are incredibly customizable structures. For example, MQS offers a few options for garage doors, windows, color, and interior and exterior features. Check out our blog on aesthetic options you can add to your barn for extra curb appeal.
Good For Many Uses
Barns are no longer strictly for horses and livestock like they used to be many years ago. Barns have come along way, meaning you can use a pole building in Ohio for practically anything you can think of! Whether you want a small shop for storage or a large building to store extra vehicles, custom post frame builders in Ohio can design and construct your new pole barn to your liking.
Contact MQS Structures
To learn more about the construction process and benefits of custom pole barns in Ohio, give our team at MQS Structures a call today! We are a family owned and operated post frame construction company serving the entire state of Ohio. If you're ready to get started on your next pole barn project, you can request a free estimate from us right on our website by filling out our online form or by giving us a call at (855) 677-3334. One of our custom horse barn builders in Ohio will be happy to discuss and answer any questions you may have.
Aesthetic Options for Pole Barns
Wednesday, 15 July 2020 07:04
Ashley Johns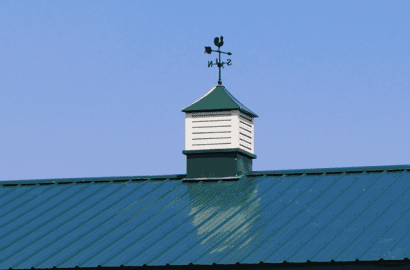 There are many aesthetic options for pole barns when it comes to the design process of custom pole barns in Ohio. Here at MQS Structures, where we build post frame buildings in Ohio, here are a few features you can add to aesthetically enhance your new barn.
Cupola
Whether you realized it or not, you have likely seen a cupola before. A cupola is a small, hollow structure that protrudes from the roof of a pole building in Ohio. They are a very common feature among pole barns, as they provide more than just aesthetic appeal. Cupolas are typically installed for ventilation and natural lighting.
Wainscot
Like a cupola, it is also likely you have seen wainscot before, not just on a barn. Wainscot is another very popular feature that people choose to add to their agricultural buildings in Ohio. It is a 3-5 foot strip of steel that wraps around the base on a barn and serves both functional and aesthetic purposes. Installing wainscot is always a great idea, as it's easier to replace if it becomes damaged rather than replacing an entire wall.
Dormer
A dormer is a small structure, typically containing a window, that projects vertically from a sloped roof. Similar to cupolas, dormers also add natural lighting and a decent amount of appeal to farm buildings in Ohio. While they are extremely common on traditional homes, they can be added to pole barns just as well.
Carriage Style Garage Door
If aesthetics are important to you, choosing a carriage style garage door over a basic commercial or residential garage door is often viewed as much more attractive.
For more information about our custom pole barns in Ohio, give us a call at (855) 677-3334. MQS is the place to do business with when you are concerned about curb appeal. We offer a variety of features that will aesthetically enhance and increase functionality in your new agricultural buildings in Ohio!
Everything You Need to Know Before Buying a Pole Barn
Wednesday, 08 July 2020 07:57
Ashley Johns
Like any large building, a pole building in Ohio is a big purchase and should be taken seriously when you decide to buy one. So, before you bring a team of custom post frame builders in Ohio on your property, here's everything you need to know before buying a pole barn to ensure your satisfaction once construction is complete.
What is post frame construction?
First off, it's important that you know post frame construction is very different than any other kind of barn construction. Post frame is a simpler construction process that uses large posts, which transfer loads to the ground, rather than a full concrete foundation. Check out one of our articles for a more in-depth explanation of post frame construction here.
How much do custom pole barns in Ohio cost?
Just like any structure, the cost of post frame buildings in Ohio will primarily depend on size. Other factors for cost include building location, building design, exterior features, and interior features.
What kind of maintenance is needed?
Pole barns are unique in that they require very little maintenance work. They are extremely strong and durable, and the material does not rust. However, if you want to keep your agricultural buildings in Ohio is excellent condition for many years to come, we've written a blog of four maintenance tips for pole barns that you can read here.
Do long do post frame buildings in Ohio last?
Because pole barns are made of steel, you can expect them to last a lifetime. Post frame buildings can withstand the harshest of weather and require minimal maintenance.
Contact MQS Structures
Are you interested in adding a pole barn on your property? MQS Structures is a family owned and operated company specializing in custom pole barns in Ohio. Request a free estimate from us today by filling out our online form, or give us a call at (855) 677-3334.