Keeping Critters Out of Your Pittsburgh Post Frame Building
Friday, 09 April 2021 11:30
Ashley Johns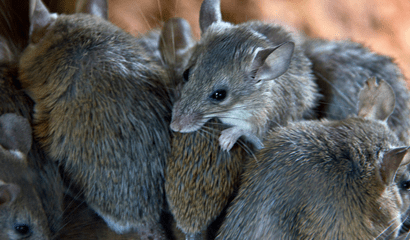 Your Pittsburgh post frame building or barn is supposed to house animals like horses, cattle, goats, or chickens.  But every once in a while, there's bound to be some unwanted guests that sneak in, and they can wreak havoc on your animals, supplies, and your Pittsburgh farm building. 
This article will cover some of the best ways to keep critters from getting inside your garage hobby shop in Pittsburgh, so that everything inside stays clean and safe.   
Secure Any Feed or Seed
Most of the time when wildlife are wandering in an unfamiliar place, it's because they're looking for one of two things: food or shelter.  So as the owner of the pole barn, you should take the proper precautions to make sure that there is no source of food or shelter easily available for them.   
"
Most of the time when wildlife 
are
wandering 
in an unfamiliar place, it's because they're looking for one of two things: food or shelter.
"
If you are storing feed inside your Pittsburgh post frame building, make sure that the lids are securely on the feed containers.  Or, if the feed is in an open bag, dump the feed in a container with a lid that is sealable.   
Clean Up All Messes
If you notice any feed or seed spills throughout your barn, clean them up as soon as possible.  Any small trace of food can be detected by rodents, and they'll keep coming back for more until the food eventually runs out.  
Clutter and trash are common sources for rodents when they are looking for materials to make a nest.  Remember to take out trash daily, or at the very minimum remember to put the lids on all trash cans and seal them as tight as possible.  This is another simple way to keep rodents out of your agricultural building in Pittsburgh. 
Proper Lawncare
Around your post frame building, you may not find it necessary to trim the weeds regularly like you would if it were your home.  Many critters tend to build nests in taller weeds, which allows them to hide from other larger animals.  So, after you finish mowing the grass around your garage hobby shop in Pittsburgh, be sure to finish the job and go get that weed eater.   

Overgrown weeds can also cover up any holes that may have been dug underneath your pole barn.  If you notice a rodent problem inside your Pittsburgh farm building, it likely involves an easy entry point somewhere along the lower portion of your barn that has gone undetected.   
As one of the leading builders of custom pole barns in Pittsburgh, MQS Structures knows how important it is for our customers to keep all their contents inside their barn safe.  We hope you can use these tips to help keep your barn and everything inside protected from unwanted critters.   
If you have any questions about our barns please give us a call today at (855) MQS-3334, and we'll be glad to assist you.