Category Archives:
Uncategorized
Designing Your Agricultural Building's Exterior
Tuesday, 01 December 2020 12:30
Ashley Johns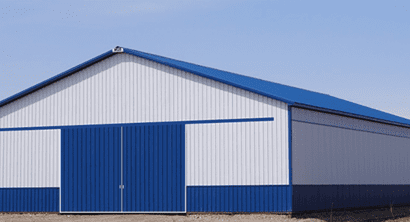 If you are the owner of one of the many agricultural buildings in Ohio, you know how important the contents inside that structure are.  There could be farm equipment, livestock, personal belongings, etc.  However, the outside of the building is what many people will see every day. 
So, what are the different types of exterior designs you can choose for?  Here is a quick rundown of some of your options. 
Lean-to
A lean-to is a structure that is attached and built off a pre-existing structure.  As one of the leading custom post frame builders in Ohio, MQS Structures offers different types of lean-tos:
Open lean-to
Partly closed lean-to
Lean-to wrap around
The best way to describe a lean-to is that it looks like an extended roof on the side of a building but serves as additional storage or a shelter.  
Wainscot  
Wainscot is wooden paneling that lines lower walls.  The original purpose of wainscot was to protect homes and farm buildings in Ohio from moisture and provide insulation.  Though it still does that today, wainscot is now commonly viewed as being a very decorative feature.  Wainscot is also becoming more commonly used on the exterior of agricultural buildings in Ohio, and it serves as a good protection barrier against scratches, scuffs, and dings. 
Cupola
Another item that is popular for agricultural buildings in Ohio is a cupola.  A cupola is a hollow frame that protrudes up from the roof of a building.  The main function of a cupola is to allow gasses and air from the building to escape through the top.  Cupolas also allow fresh air to enter which helps provide adequate ventilation throughout the building.  This is extremely important if you plan on having livestock or pets living inside.   
Not only do cupolas serve an important function for a pole building in Ohio but they are also very aesthetically appealing.  A cupola also helps give the building more of a "barn look" and adds a little more creativity to your design.  Some more modern buildings may opt for a ridge vent to achieve proper ventilation, but if you're looking for something more traditional a cupola may be best.  
MQS Structures 
can help!
If you are in the market for agricultural buildings in Ohio and are looking for assistance with what structure might be best for you, we can assist you.  Please give MQS Structures a call at (855) MQS-3334 or (855) 677-3334.   
With a combination of modern technology and old–fashioned values, we offer our customers the pleasure of working with an experienced company that focuses on integrity, work ethic, and customer service. 
Pole Barn Organization Tips and Tricks 
Sunday, 15 November 2020 12:45
Ashley Johns
For those of us with a garage or pole barn, we all know how easy it is to disorganize the space. We're all guilty of not putting something back where it was found. But then, before you know it, you're left with a messy space and not being able to find what you need. Fortunately, it's very easy to organize a pole barn for maximum storage capacity. Continue reading for some pole barn organization tips and tricks that our pole barn builders in Ohio think you will find very handy.  
Install a Pegboard
Pegboards are a very common organization method that is found in barns, garages, and workshops. You can find a pegboard at your local hardware store. Installing one will make it easier to access and find all of your tools, as well as free up a decent amount of floor space. 
Shelves
When you are left with limited space in your garage or agricultural buildings, shelves are easy to install to help you utilize your space. Whether you go with cabinets with shelves in them, free-standing shelves, or open shelving, this is a good way to create more space and store items that need a home. 
Add a Workbench
No matter if you have a horse barn or garage workshop, incorporating a workbench is the perfect solution for all of your DIY projects. Not only can you easily work on all your projects on it, but you can also let it serve as another storage space by installing cabinet or shelves underneath.  
Heavy Duty Hooks
Wall hooks tend to come in handy for many things such as hoses and extension cords. There's nothing worse than having to untangle a long hose when you need it. Wall hooks make it easy to avoid tangled messes and keep your space looking sharp and organized. If you don't want to invest in hooks, cable cuffs are another good cord organization piece.  
Clear Storage Bins
Plastic storage bins have been a long time storage solution. These bins come in various sizes and are easy to transport, so it's no wonder they have been around for years. However, for optimal organization, investing in clear bins will help you see what's inside them to avoid having to open every single one to find what you need. 
Contact MQS Structures
At MQS Structures, our pole barn builders construct a variety of professionally designed hobby shops, garages, horse barns, and agricultural buildings in Ohio. To learn more about our process or to receive a free price estimate, please fill out our online form. You can also reach our office by phone at 855-677-3334 today!  
Debunking Post Frame Construction Myths
Sunday, 01 November 2020 12:30
Ashley Johns
Over the years, our Amish barn builders in Ohio have heard an assortment of misconceptions about post frame buildings. This is very unfortunate, as post frame construction is a beneficial building process. In this article, we are going to be debunking post frame construction myths. 
Myth 1 – Post Frame Construction is a Complicated Process
The first myth we commonly hear about post frame construction is that it is a complicated and expensive building process. This is far from true. Instead, post frame buildings are some of the most straightforward structures to erect due to the little amounts of material needed. For example, less lumber is required and a foundation isn't needed, which means overall lower building costs.  
Myth 2 – You Can't Add Amenities In Post Frame Buildings
Design and amenity possibilities are endless. Post frame is a very adaptable building process. This means you can easily add in drywall, insulation, wiring, plumbing, interior walls, and anything else you may wish to add.  
 Note – Some building companies, like MQS Structures, only do new build construction and do not do any interior finish work. If you want to add amenities like plumbing into your barn, you will need to outsource someone. 
Myth 
3 – Post Frame Buildings Aren't Wind Resistant 
While it is true that a poorly built post frame building will not hold up during a strong windstorm, a properly built building will hold up incredibly well. This is why it's essential to select Amish barn builders who have years of post-frame construction experience.   
Myth 4 – Post Frame Construction Has No Flexibility
The design options are limitless when it comes to post frame construction. At MQS Structures, we offer various ways to aesthetically enhance and increase functionality in your new barn. Some features we offer to distinguish your pole barn from the rest include: 
Lean-to 

 

Interior steel lining

 

Attic space

 

Shed roof dormers

 

Inside office with loft above

 

Wainscot

 

Cupola

 

Overhangs with gutter and do

wnspouts

 
Contact MQS Structures
MQS Structures is a family-owned and operated company that specializes in steel sided wood structures and post frame buildings in Ohio. We pride ourselves on our Amish roots, strong work ethic, and expert craftsmanship. Request a quote from us today for your free estimate or give us a call at 855-677-3334 to speak to one of our salesmen. We look forward to hearing from you! 
Custom Pole Barn or Pole Barn Kit?
Thursday, 22 October 2020 06:38
Ashley Johns
When you are running out of storage and need to find a solution, something you may look into is adding a pole barn on your property. After doing your research, you will find that you have two options – hire custom pole barn builders or purchase a pole barn kit. But which option is the best choice? In this article, we are going to discuss whether you should go with a custom pole barn or pole barn kit. After all, post frame buildings are significant investments, so you need to do your research.  
How Custom Pole Barns Differentiate From Pole Barn Kits 
Custom pole barns and pole barn kits differentiate quite a bit from one another in many ways: 
Price  
Cost is one of the most frequently asked questions whenever someone is interested in receiving a pole barn, and rightly so. Like any building you build, you will have to invest in a decent amount of money into it. When comparing the cost between custom pole barns and pole barn kits, you will likely find that kits are the more inexpensive option. However, you get what you pay for when it comes to barns. Custom pole barns are more expensive but tend to be of higher quality than kits. 
Materials 
Quality should be your biggest concern when you are considering a pole barn. Post frame companies, including MQS Structures, pride themselves in supplying and building with the highest quality materials on the market. For instance, we commit to quality in our post frame buildings in Ohio by providing: 
Better framing lumber

 

S

teel entry and garage doors

 

Rust-resistant painted steel exterior

 

Screw application on steel exterior

 
On the other hand, most pole barn kits come with standard features instead of quality materials.  
Time and Labor 
If you want a barn as soon as possible, a pole barn kit may not be your best choice. A kit doesn't include a building crew, which means you will have to build the barn yourself. For many people, finding the time to construct a large barn is near to impossible. Fortunately, when choose a pole barn company to build you a custom barn you will receive your barn in just a few days once construction begins.  
Which One Will You Choose? 
Now that you know the difference between these two building options, which one will you choose? Here at MQS Structures, we have built custom pole barns in Ohio for many people. Hiring a pole barn company to build you a custom barn is a very smart idea. Request a quote from us by filling out our online form today! 
Advantages of Metal Roofs on Pole Barns
Thursday, 15 October 2020 07:28
Ashley Johns
When it comes to deciding what material to put on the roof of farm buildings, you typically have two options – shingles or metal. While both are great options, Amish barn builders tend to find metal to be the best choice. The following are four advantages of metal roofs on pole barns. 
Metal Roofs on Pole Barns Are Sustainable  
More and more people are becoming aware of the impact roofing and siding has on the environment. This is why many people and barn builders prefer metal roofs. Metal is a very sustainable material due to being made of recyclable materials. Plus, it is a 100% recyclable material itself! Metal is also an excellent option for homeowners looking into eco-conscious initiatives like harvesting rainwater. 
Metal Roofs Come In a Variety of Styles 
Metal roofs are very stylish and come in a variety of colors, shapes, and finishes. While shingles only come in a few colors, metal offers many more options. Want a bright red roof? You can do that! Want a blue, green, or gray roof? You can do that too! The options are endless when it comes to color. We even have an interactive color studio where you can choose from a variety of colors for your next barn – check it out! 
Metal Roofs are Durable  
Metal is one of the most durable and long-lasting materials on the market. This is why many people choose to go with metal than any other roofing material. A metal roof typically lasts anywhere from 40-70 years and is backed by an excellent warranty. Additionally, metal can withstand dangerous weather without receiving any damage because it is rated Class 4 by Underwriters Laboratories. This means a metal roof passes many tests to measure impact resistance.  
Metal Roofs are Energy-Efficient  
Metal roofs reflect heat rather than absorb it, which can help reduce cooling costs during the summer. While a metal roof may be more expensive upfront, you will make it up with monthly savings on cooling and heating costs.  
Contact MQS Structures 
While there is nothing wrong with a shingle roof, our Amish barn builders in Ohio highly prefer metal roofs on farm buildings. There are many benefits of metal that you should consider when you decide which roofing material to go with. To learn more about metal, feel free to give our team a call at 855-677-3334. You can also request a quote for one of our farm buildings in Ohio by filling out our convenient online form. We look forward to working with you!