Category Archives:
Uncategorized
How Post Frame Construction is Sustainable
Monday, 15 June 2020 06:46
Ashley Johns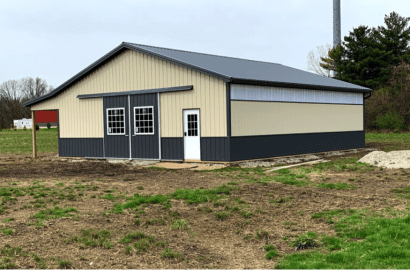 In today's world, we are always looking for ways to "go green." Fortunately, when it comes to construction for agricultural buildings in Ohio, post frame construction is extremely sustainable and has many benefits that align well with the green building movement.
What is Green Building?
Green building, also known as sustainable building, is environmentally friendly construction. This means the process of constructing a building involves sustainable materials and minimal impact on the environment. Green buildings typically have less carbon footprint than other construction processes for farm buildings in Ohio, thus contributing less to climate change.
Sustainable Aspects
The first aspect of post frame construction that makes it sustainable is that it creates minimal site disturbance during construction. This is because custom post frame builders in Ohio space out structural supports far enough apart directly in the ground. Additionally, because a concrete foundation isn't required, this helps reduce the use of energy during construction, as well as soil disturbance.
The next aspect of post frame construction that makes it sustainable is the use of cool colors on steel. Cool colors, such as white, are reflective and ultimately reduce energy to help cool the interior of the building.
Efficiency and Durability
The materials that custom horse barn builders in Ohio use are extremely eco-friendly. Such materials allow the building to be much more durable over time, all while saving energy and money.
Insulation
Post frame buildings in Ohio have excellent insulation. For example, the walls and ceilings have fewer bridges to allow heat transfer and are built with enough space for proper insulation. Additionally, the doors and windows on a pole building in Ohio have low e-glass to help improve insulation.
For more information about the sustainable features of custom pole barns in Ohio, give us a call. For a quote, you can fill out our online form here.
Beginning Phases of Building a Pole Barn
Monday, 08 June 2020 06:31
Ashley Johns
If you've finally decided to build a pole building in Ohio, you may be wondering what the first steps entail. Luckily, you've already completed step one, which is deciding to build a barn! But what comes next? Continue reading for a basic overview of the beginning phases of building a pole barn:
Determine Your Needs
Farm buildings in Ohio can be used for a variety of things, but how are you going to use your barn? Determining your needs, such as what you are going to use your barn for and how large you want it to be, are both crucial before completing the next steps.
Check With Local Building Codes
Before any construction begins, checking with your local building codes is very important. You may be unaware that your town or county has specific building codes that you must abide by when constructing any agricultural buildings in Ohio. Examples include building size, segment, and setbacks from property lines. You may also need a permit. If this is the case, here at MQS Structures, it is the customer's responsibility to apply for the permit if it is required to build any post frame buildings in Ohio.
Request a Quote
Once you are knowledgeable on your township or county building codes, you can now request a quote from our custom post frame builders in Ohio. We suggest checking with local codes first, so you know that the measurements you want are allowed on your property. We have a very convenient online form you can fill out with as much information you can provide, or you can give us a call at (855) 677-3334 to speak with one of our custom horse barn builders in Ohio.
Final Design
After you have sent in your request for a quote, our builders will then begin working with you to come up with a design to fulfill your pole barn dreams. Some things we will discuss with you include colors, doors, windows, interior and exterior features, etc. If you are unsure what features will be best on your custom pole barns in Ohio, we will be more than happy to offer our expert opinion.
Using a Pole Barn for RV Storage
Monday, 01 June 2020 05:22
Ashley Johns
A Recreational Vehicle is a sizeable investment and deserves to be kept in good condition. Obviously, the best place to store an RV is in a garage. However, a typical residential garage isn't always large enough for an RV. This is why a pole building in Ohio is the perfect solution. Here are a few reasons why you should consider using a pole barn for RV storage.
Large Structure
Pole barns are extremely customizable structures. This means they can be built to fit something as large and tall as an RV. Additionally, if you have other large equipment to store, such as golf carts, boats, and trailers, post frame buildings in Ohio are the perfect solution.
Easy Access
While renting a storage unit is still an option, you will save much more money by building your own garage hobby shop in Ohio, especially if you plan to have your RV for many years. Not only will you save money, but using a pole barn for RV storage will also allow you easier access to your RV. Having your RV on your property will make it much more convenient when it comes time to prepare for a road trip.
Protection
Like we mentioned earlier, an RV is a reasonable investment that deserves to be kept in pristine condition. Luckily, custom pole barns in Ohio are a great solution because of the protection they offer. Pole barns offer excellent protection from the elements to help extend the life of your RV and reduce the need for repairs.
Contact MQS Structures
As you can tell, there are many benefits of storing an RV in a pole building in Ohio. If you have an RV or are looking to get one, contact our custom post frame builders in Ohio for more information about building a pole barn to store your RV. We build custom pole barns in Ohio of all shapes and sizes. Lock in your quote today by filling out our online form or giving us a call at (855) 677-3334.
Site Preparation for Farm Buildings in Ohio
Friday, 22 May 2020 05:12
Ashley Johns
Before any construction begins on post frame buildings in Ohio, one must first prepare the site. Fortunately, post frame structures do not require as extensive site preparation as other construction methods do. However, it is still necessary. Here is a simple overview of site preparation for farm buildings in Ohio.
Local Codes and Planning
Before starting anything, always be sure to check with your local codes to ensure the pole building in Ohio you so desire fits in with your cities guidelines. Permits and inspections may also be a requirement beforehand, so you must understand all the requirements that go into constructing custom pole barns in Ohio on your property.
Clearing the Site
Obviously, you can't build agricultural buildings in Ohio over large trees and bushes. This means the first objective before construction begins is to clear the site of sod and vegetation at least four to five feet beyond the perimeter of the building pad. Laying concrete on top of roots and decaying material will cause air pockets that will create an unstable foundation.
Grading
Proper drainage is crucial, so grading a site important is important. Depending on your site, adding a compactible fill material may be necessary to help build the elevation of the site. Fill material like sand or gravel is often used in cases where a site is uneven or has a sloped ground. Your excavator will be able to help determine the best way to improve the grade to allow for adequate water drainage from the site.
If you are unsure about the best site location for your future pole barn, our custom post frame builders in Ohio are happy to discuss with you to determine the best placement. This will help prevent any problems down the road. For more information on the building process and site preparation for farm buildings in Ohio, give our team at MQS Structures a call today.
Flooring Options for Pole Barns
Monday, 18 May 2020 06:04
Ashley Johns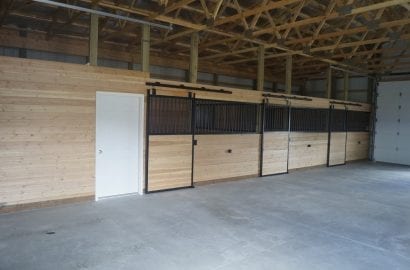 An important decision one has to make when they add a pole building in Ohio on their property is what kind of flooring they want inside. There are many flooring options for pole barns available; however, what you choose will depend on how you plan to use your barn. For example, a horse barn will require a different kind of flooring material than a simple garage. If you plan on investing in one of our custom pole barns in Ohio, here are a few flooring options for you to think about.
Concrete
The most common flooring option for most agricultural buildings in Ohio is concrete. Concrete is ideal for any post frame buildings used to serve as a workshop, garage, or storage unit. Why? Not only is concrete relatively easy and inexpensive to install, but it is also very easy to clean, long-lasting, and sturdy.
Dirt
Dirt is quite possibly the most inexpensive flooring material out there. It is ideal for farm buildings in Ohio that are used to house horses and other livestock, as dirt is an exceptionally soft material and is the most comfortable for animals to walk on. With dirt, you would need to plan on regrading the surface every once in a while.
Gravel
If you don't necessarily want dirt for your pole barn floor, but don't want to pay for something more high end like concrete, gravel is a good option. Gravel is an excellent choice for post frame buildings in Ohio used to store agricultural equipment or other large items. Just like dirt, you will want to periodically make sure the gravel is graded properly by refilling it occasionally or raking it to spread it evenly.
Rubber Mats
According to our custom horse barn builders in Ohio, rubber floor mats are highly recommended if you use your building as a horse barn. These mats create a comfortable surface for animals to walk across and aren't as messy as dirt would be. Typically, people place these mats down the walkways in their barn and find them very beneficial.
For more information about pole barn flooring or to receive a price estimate for a pole building in Ohio, give MQS Structures a call at (855) 677-3334.