Category Archives:
Uncategorized
Install an Indoor Riding Arena
Wednesday, 01 January 2020 06:02
Ashley Johns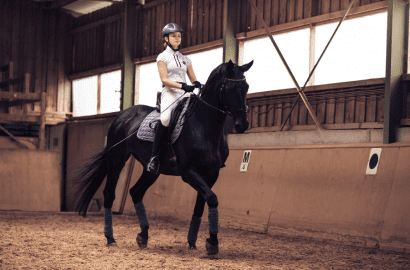 When you decide to build custom pole barns in Ohio, you will find that there are many additional features available to add to make your barn unique from everyone else's farm buildings in Ohio. Here at MQS Structures, we offer a variety of features, one including an indoor riding arena. If you're building a horse barn, here are some reasons why you should install an indoor riding arena.
Ride Anytime
The first notable reason as to why someone would invest in an enclosed arena would be for the advantage of getting to ride anytime and in any weather. By installing large lights, you aren't restricted as to what time of day you can ride. This is very beneficial during the winter when daylight is limited. Additionally, the weather never has to be a factor for when you can ride. Whether it's snowing or raining, an indoor arena keeps you and your horse safe from Mother Nature. Custom post frame builders in Ohio say this is extremely beneficial if you teach riding lessons.
Increase Value to Barn
If you ever decide to sell your property, an enclosed riding arena attached to a pole building in Ohio is guaranteed to increase the value of the barn. Many people, especially competitive horse riders, dream of owning an indoor arena in their custom pole barns in Ohio.
Privacy
Our custom horse barn builders in Ohio have found that a majority of people prefer an indoor riding arena because of the privacy it offers, as it provides a sense of safety and comfort for both the horse and rider. There is also less distraction, which is beneficial to skittish horses that still need time before riding outdoors.
No Worry of Weather Damage
Severe weather and high winds can cause extreme damage to an outdoor arena. From rain creating a mud pit to wind blowing jumping equipment around, it can cause a mess. Because of this, you are limited to when you can ride. However, agricultural buildings in Ohio that include an indoor arena offer protection from possible weather damage 24/7!
Five Features for Your Horse Barn
Wednesday, 18 December 2019 05:41
Ashley Johns
If you're in the design and planning process for a pole building in Ohio for your horses, you may be wondering what all you should include. As custom horse barn builders in Ohio, we are going to suggest five features for your horse barn that we think are necessary.
Your Horse Barn
Wash Stall
A dedicated space for bathing a horse is a very common feature many people include in their farm buildings in Ohio. We highly recommend including a wash stall in your barn design, as it allows you to wash and groom your horse no matter the weather.
Tack Room
Just like you need a dedicated space for washing your horse, an area to keep your riding equipment is also important. A tack room is a great feature to include in agricultural buildings in Ohio to keep everything in one, clean area.
Indoor Riding Arena
If you intend to ride your horses year-round, you're going to want an indoor riding arena. This way you can ride them any time of day and in any weather. While this feature does cost more, many people find it very beneficial. Our custom horse barn builders in Ohio have yet to hear a customer regret installing an indoor riding arena.
Attic/Hayloft
You can never go wrong with having too much storage. This is where including an attic or hayloft in your custom pole barns in Ohio is a great idea. While most people dedicate attic space in their pole barn for storing hay, you can also store other things up there as well, such as horse feed.
Sliding Door
Horses are large animals, which means you will need a large door to bring them in and out of your pole building in Ohio. At MQS Structures, we offer a variety of door options, including a split slider, Dutch slider, and single slider.
How To Prevent Pole Barn Condensation
Monday, 16 December 2019 07:33
Ashley Johns
No matter what you store in your pole building in Ohio, whether it's livestock or antique cars, a dry interior is essential. Problems with insulation include things like mold and mildew, ice dams, trapped moisture, and especially condensation. Here are some tips on how to prevent pole barn condensation, according to our custom post frame builders in Ohio.
Ventilation
For starters, condensation occurs when warm air comes in contact with a cold surface. The level of condensation depends on temperature and dew point. One crucial aspect of condensation control is ventilation. For farm buildings in Ohio, a vented soffit and ridge are both great solutions for proper ventilation.
Insulation
The next crucial ingredient in preventing barn condensation is insulation. Without adequate insulation, farm buildings in Ohio can experience many structural problems such as rusting metal and wood rot. To help avoid condensation, insulating your barn with spray foam, for example, can really help.
Vapor Barrier
A vapor barrier is another great solution to condensation control. It is a material that retards water vapor migration and is typically installed on the inside surface of insulation. Vapor barriers can also be installed under the concrete slab, which helps avoid mold, cracks, and radon gas. There are many vapor barriers to choose from, but many builders for agricultural buildings in Ohio suggest Americover's polyethylene plastic sheeting, Thermax insulation, or OSB.
With over 30 years of experience building custom pole barns in Ohio, MQS Structures will help you build the barn of your dreams from start to finish. For additional questions on how to prevent pole barn condensation, feel free to give our builders a call or by leaving a message on our website. If you're ready to start the construction process for a pole building in Ohio, you can receive a free price estimate on our website as well.
Building Tips for Snow Loads
Monday, 09 December 2019 06:11
Ashley Johns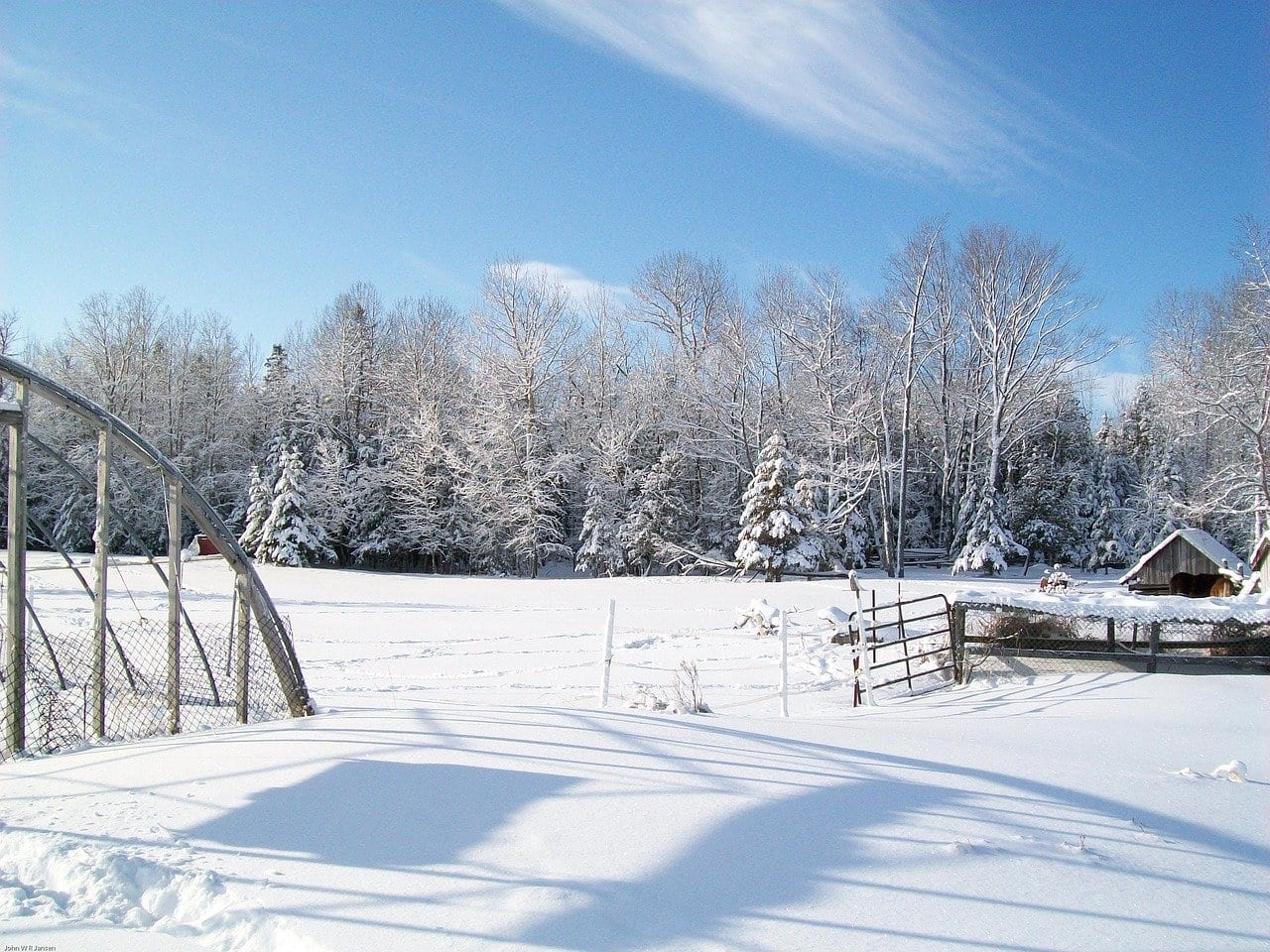 When custom post frame builders in Ohio build a pole barn, one thing they always keep in mind is snow load. If you plan on constructing a pole building in Ohio, here are some building tips for snow loads.
What are Snow Loads?
Snow loads refer to the amount of force from snow a building can withstand, with one cubic foot of snow weighing anywhere from 10-20 pounds. Obviously, the more compacted and wet the snow is, the more it will weigh. Snow loads also vary based on region.
Risks of Snow Loads
There are quite a few problems that can occur on a building that is not built with snow loads in mind. The first, and most dangerous, risk of snow loads is a collapsing roof. If your farm buildings in Ohio aren't adequately built for snow loads and heavy snow is left on your roof for too long, there is the possibility of it collapsing.
A less extreme, but still detrimental, risk of snow loads is the formation of ice dams. This happens when a pole building in Ohio doesn't have proper insulation. Basically, if the heat from inside rises to the attic, it will melt the snow on top, which will flow down towards the eaves and refreeze. When this occurs, the dam will start to grow and eventually drip through the roof.
Building Tips
Purlin Spacing – How far apart you space purlins will depend on how much snow your region typically gets during the winter. The closer spaced = purlins are, the more weight the roof can hold. Additionally, closer spaced purlin transfer snow more evenly.
Drainage – A good drainage system will help you avoid ice dams and prevent melted water from pooling around your building. Additionally, make sure you clear your gutters from debris to prevent it from freezing.
Consider Snow Distribution – The direction of your agricultural buildings in Ohio and where rooflines join are important considerations for the distribution of snow. Because of wind, snow doesn't fall straight down, which means an uneven distribution of snow on some parts of the roof. To avoid this, you'll need to pay close attention to the building orientation.
The best way to ensure your building can handle snow loads is by hiring professional custom post frame builders in Ohio. If you have any questions, feel free to reach out to us. You can also request a free price estimate for custom pole barns in Ohio right on our website.
Tips for Winterizing Your Pole Barn
Tuesday, 03 December 2019 06:58
Ashley Johns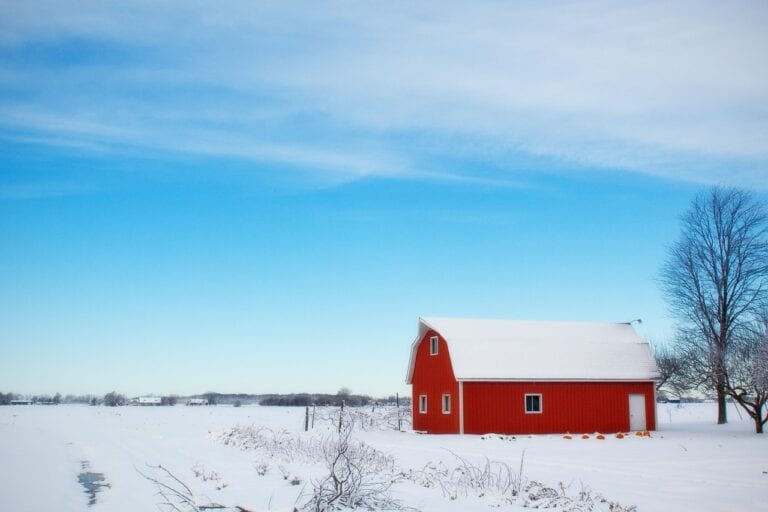 With December here, it's crucial that your pole building in Ohio is ready for the cold weather of winter. There are a few important steps to take and things to check to ensure your barn can handle the inclement weather and keep you warm. Here are some tips for winterizing your pole barn, according to custom horse barn builders in Ohio.
Clean the Gutters
Clogged gutters during the winter put your farm buildings in Missouri at risk for forming ice dams. It's crucial to remove any debris from gutters so that melted snow has a way to runoff and so water doesn't freeze within the debris and cause damage to the gutter system.
Check the Ventilation
No matter what you use custom pole barns in Ohio for, ventilation is essential. A good ventilation system provides necessary airflow to a building for healthy indoor air quality for you and your animals. Without ventilation, the air will become stagnant, and mold and mildew issues can arise.
Check the Insulation
During the winter, adequate insulation is essential for the contents and/or animals inhabiting your agricultural buildings in Missouri. Without insulation, you can damage your equipment, machines, and create inhumane conditions indoors.
Stall Mats
Stall mats are always a great addition to any pole building in Missouri that house animals during the winter. These rubber mats protect your floors, allow you to use less bedding, make cleaning your floors easier, and help reduce ammonia levels.
For more information and tips on winterizing your pole barn, give MQS Structures a call. Your farm buildings in Missouri are important for the safety of your animals and other equipment dwelling inside. Give it the attention it needs this winter to ensure you and your animals have a healthy winter.