Category Archives:
Uncategorized
Pole Barn for Storage
Monday, 03 February 2020 06:14
Ashley Johns
A pole barn can be used for a variety of things. Many people think farm buildings in Ohio are strictly for housing livestock or farm equipment; however, that is simply not true. Many of our customers come to us looking to build a pole building in Ohio to serve as a storage unit. Continue reading to learn more about the benefits of a pole barn for storage.
Spacious and Customizable
Unlike a shed, which is typically small, a pole barn gives you plenty of space to store whatever you need – from furniture to large tractors. With a pole building in Ohio from MQS Structures, you can customize your barn to whatever size you need it to be. Additionally, you can include many great features to customize it even more, such as the type of doors installed and flooring material.
No Paying Rent
With the amount of storage units available for rent out there, you may be wondering why you would need to purchase an entire barn. While custom pole barns in Ohio may be more expensive upfront, if you intend on using a storage unit for many years, you will likely save more money purchasing a garage hobby shop in Ohio rather than renting one.
Climate Control
A significant advantage of pole barns built by custom post frame builders in Ohio is that they are climate-controlled structures. There are many different methods to insulate a barn, depending on what comfort level you are trying to achieve. Examples include a condensation control barrier, a fiberglass wall and attic insulation, or even spray-on foam.
For more information regarding agricultural buildings in Ohio to be used for storage, contact MQS Structures today. We distinguish ourselves from other barn builders by providing our customer's high-quality structures and service from the design process to the barn completion.
Quality Pole Barn Company
Wednesday, 22 January 2020 06:28
Ashley Johns
When it comes to constructing something as comprehensive as a pole building in Ohio, a qualified barn company is essential. Not just anyone can build a barn that is functional and sturdy. So when you're looking around for a crew to build your next barn, the following are some necessary qualities to look for in a quality pole barn company.
License
The first thing every barn company should have is a building license. Licensed, custom post frame builders in Ohio will have experience meeting code requirements, processing permits, and carry warranties.
Warranties
A reputable barn company will provide a warranty on their work. At MQS Structures, our main goal is to see our customers pleased with the final result of their garage hobby shop in Ohio. This means a commitment in durability, which includes a 50-year column warranty, a 40-year steel warranty, a 10-year garage door warranty, and a 1-year workmanship warranty.
Quality Pole Barn Company Experience
The best companies are the ones who have years of experience building custom pole barns in Ohio under their belt. More experience means quality workmanship and a crew that knows what they're doing.
Excellent Material
Quality material is a critical component of constructing quality farm buildings in Ohio. If you want your building to last, you need a pole barn company that doesn't cut corners on the material they use. At MQS Structures, we want your pole building in Ohio to pass the test of time, and in order to do that, we use only the best framing lumber, steel entry and garage doors, and rust-resistant painted steel exterior.
Professional Crew
Like we said, not just anyone can build exceptional agricultural buildings in Ohio, which is why ensuring the company you hire has a professional, detailed, and trained crew. This not only ensures that you receive a quality structure, but a courteous staff during the building process as well.
Common MQS Structures Questions Answered
Tuesday, 14 January 2020 06:23
Ashley Johns
Here at MQS Structures, we receive many questions daily about our farm buildings in Ohio. We have compiled a list of common MQS Structures questions.
Where do you build?
We build anywhere in the state of Ohio. However, we have made exceptions for customers before who live at least an hour outside of Ohio in West Virginia and Indiana.
How much is a pole building in Ohio?
Our pole barns vary from customer to customer. Price is based on the customer providing a level gravel building pad, additional features beyond the standard, and the labor for the barn.
What should I do for a building permit?
The customer is responsible for applying for the permit if required. There may be some city restrictions on height and size that are crucial to know about. Our custom post frame builders in Ohio will provide specs and drawings for your pole barn, but if engineered sealed blueprints are required, an additional fee will apply.
Do you build custom pole barns in Ohio for houses?
While it's possible to build a pole barn for a house, we at MQS Structures typically build agricultural buildings in Ohio more so than homes. However, if you desire a pole barn home, we are more than happy to construct the shell and any concrete you want. Just know that we do not do any plumbing, electrical, or interior finish work.
What standard features do you include in your barns?
Standard features of our custom pole barns in Ohio include:
Ridge ventilation
29 ga. steel roof, sides, trim
4′ O/C trusses @ 4/12 pitch
8′ O/C glue lam sidewall columns
2-ply truss supports
2′ O/C 2×4 roof purlins
2′ O/C 2×4 side girts
Treated 2×8 skirt at ground line
Steel rodent guard at the base
42″ post holes with concrete footings
Rebar through post to prevent uplift
How long does it take to build a pole barn?
Construction time on farm buildings in Ohio generally takes less than a week. How many days depends on how extensive the project is, from size to features. However, the average lead-time from signing the contract to the last day of construction can take anywhere from 3-10 weeks.
Pole Barns and Ice Dams
Monday, 06 January 2020 06:15
Ashley Johns
Every winter, ice dams are a serious concern among those who own farm buildings in Ohio. While snow is a beautiful sight, it can also be detrimental to a building if it receives too much on the roof. This article will discuss pole barns and ice dams – what they are and how to avoid them.
Pole Barns and Ice Dams
An ice dam is a large formation of ice that sits on the edge of a roof. If your pole building in Ohio is heated, that heat can rise to the ceiling and melt the snow on top. When this happens, the heat will melt the snow near the top of the roof that will eventually drain towards the eaves that are not heated, ultimately causing the melted snow to refreeze. The more this builds up, an ice dam will form and cause extreme damage to the roof and inside of the building.
Ice Dam Prevention
How to avoid ice dams? If you are considering a pole barn, make sure professional custom post frame builders in Ohio build it. This is the first step in ensuring a sturdy building for years to come and one that can combat ice dams. Additionally, ensure proper insulation levels to reduce heat loss – a significant factor in the formation of ice dams. Fortunately, metal roofs are more adept at preventing ice dams, and our agricultural buildings in Ohio are installed with a metal roof. The low friction of metal roofs allows snow to shed much easier.
Custom pole barns in Ohio by MQS Structures are engineered to meet and exceed local building codes. Additionally, we design our building trusses with local snow loads and 90 mph winds in mind, in the possibility you choose to add a ceiling and insulate the attic space someday. Our goal is to build agricultural buildings in Ohio that our customers are pleased with. If you want a pole building in Ohio that will last, do yourself a favor and give us a call.
Install an Indoor Riding Arena
Wednesday, 01 January 2020 06:02
Ashley Johns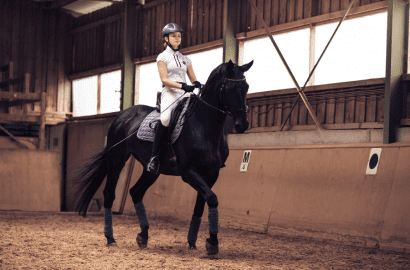 When you decide to build custom pole barns in Ohio, you will find that there are many additional features available to add to make your barn unique from everyone else's farm buildings in Ohio. Here at MQS Structures, we offer a variety of features, one including an indoor riding arena. If you're building a horse barn, here are some reasons why you should install an indoor riding arena.
Ride Anytime
The first notable reason as to why someone would invest in an enclosed arena would be for the advantage of getting to ride anytime and in any weather. By installing large lights, you aren't restricted as to what time of day you can ride. This is very beneficial during the winter when daylight is limited. Additionally, the weather never has to be a factor for when you can ride. Whether it's snowing or raining, an indoor arena keeps you and your horse safe from Mother Nature. Custom post frame builders in Ohio say this is extremely beneficial if you teach riding lessons.
Increase Value to Barn
If you ever decide to sell your property, an enclosed riding arena attached to a pole building in Ohio is guaranteed to increase the value of the barn. Many people, especially competitive horse riders, dream of owning an indoor arena in their custom pole barns in Ohio.
Privacy
Our custom horse barn builders in Ohio have found that a majority of people prefer an indoor riding arena because of the privacy it offers, as it provides a sense of safety and comfort for both the horse and rider. There is also less distraction, which is beneficial to skittish horses that still need time before riding outdoors.
No Worry of Weather Damage
Severe weather and high winds can cause extreme damage to an outdoor arena. From rain creating a mud pit to wind blowing jumping equipment around, it can cause a mess. Because of this, you are limited to when you can ride. However, agricultural buildings in Ohio that include an indoor arena offer protection from possible weather damage 24/7!