Category Archives:
Uncategorized
Flooring Options for Pole Barns
Monday, 18 May 2020 06:04
Ashley Johns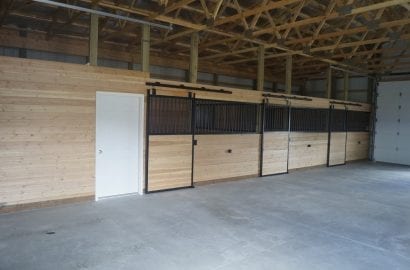 An important decision one has to make when they add a pole building in Ohio on their property is what kind of flooring they want inside. There are many flooring options for pole barns available; however, what you choose will depend on how you plan to use your barn. For example, a horse barn will require a different kind of flooring material than a simple garage. If you plan on investing in one of our custom pole barns in Ohio, here are a few flooring options for you to think about.
Concrete
The most common flooring option for most agricultural buildings in Ohio is concrete. Concrete is ideal for any post frame buildings used to serve as a workshop, garage, or storage unit. Why? Not only is concrete relatively easy and inexpensive to install, but it is also very easy to clean, long-lasting, and sturdy.
Dirt
Dirt is quite possibly the most inexpensive flooring material out there. It is ideal for farm buildings in Ohio that are used to house horses and other livestock, as dirt is an exceptionally soft material and is the most comfortable for animals to walk on. With dirt, you would need to plan on regrading the surface every once in a while.
Gravel
If you don't necessarily want dirt for your pole barn floor, but don't want to pay for something more high end like concrete, gravel is a good option. Gravel is an excellent choice for post frame buildings in Ohio used to store agricultural equipment or other large items. Just like dirt, you will want to periodically make sure the gravel is graded properly by refilling it occasionally or raking it to spread it evenly.
Rubber Mats
According to our custom horse barn builders in Ohio, rubber floor mats are highly recommended if you use your building as a horse barn. These mats create a comfortable surface for animals to walk across and aren't as messy as dirt would be. Typically, people place these mats down the walkways in their barn and find them very beneficial.
For more information about pole barn flooring or to receive a price estimate for a pole building in Ohio, give MQS Structures a call at (855) 677-3334.
How to Clean a Garage Like a Pro
Monday, 11 May 2020 05:54
Ashley Johns
If you're like most people, your garage isn't the most organized area in your life. Garages tend to be the place where we store our outdoor cleaning supplies, sports equipment, old furniture, etc. However, just like most areas in our life, our garages deserve a deep clean every once in a while – no matter how dreadful it may be. As custom post frame builders in Ohio, we often build post frame buildings in Ohio to serve as garages for people looking to add some extra space. Continue reading to learn how to clean a garage like a pro.
Pull Everything Out
The best way to clean a garage hobby shop in Ohio is to start with a fresh slate. This means pulling everything out of your garage and placing it all on your driveway. This will allow you to find out exactly what's all in your garage, and to deep clean the space before putting everything back in.
Organize Your Items
Once everything from your garage is on your driveway, now is the best time to begin organizing your items by category. This includes gardening tools, handyman tools, sports equipment, lawn care, etc. While you are doing this, you will also want to create two separate piles off to the side of things you want to donate and things you need to throw away.
A tip from our builders – when you are undecided whether you should keep something or not, ask yourself when was the last time you used that item, do you plan on using it sometime within the next year, and is it something that you could easily rent or borrow from the store or from a friend.
Deep Clean
After organizing all of your items, and before you put it all back in your pole building in Ohio, you will first want to deep clean the empty space. This may include sweeping the floor, dusting off any shelves and cabinets, wiping down the inside of the garage refrigerator/freezer, or even power washing the floors clean.
Determine Your Organization Strategy
Before you just throw everything back in your garage hobby shop in Ohio, you'll want to have an organization strategy. Some of the best ways to organize a garage include installing shelves, cabinets, a pegboard, wall hooks, etc. You may also want to invest in some nice storage bins.
Need More Garage Space?
Is your current garage space not cutting it? Contact MQS Structures today to learn more about how our custom pole barns in Ohio are perfect for garages. Whether you need large farm buildings in Ohio for storing multiple vehicles or farm equipment, or something smaller, we can help.
Process of Building a Pole Barn
Monday, 04 May 2020 05:43
Ashley Johns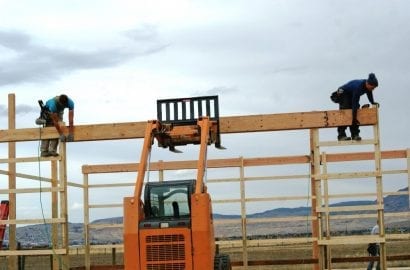 Post frame construction is one of the most popular construction processes out there. There are many benefits of it that make it so preferred for anyone looking to build agricultural buildings in Ohio. If you're looking into adding a pole barn to your property, here's an example of the process of building a pole barn our custom post frame builders in Ohio take every time they build:
On the first day of construction, the materials are dumped at the site, and the building crew arrives.
The first step in the construction process is to drill the post holes. The posts that go into the holes essentially act as the building's foundation.
After the post holes are drilled, the base skirt board and side girts are installed.
Next comes the roof, which includes installing the truss supports, the trusses, and the roof purlins. We have distinguished ourselves by incorporating 4' O/C trusses at 4/12 pitch, 2-play truss supports, and 2' O/C 2×4 roof purlins. Additionally, all of our custom pole barns in Ohio are engineered to meet 90 mph wind load and local snow loads.
After the roof is in place, the doors and windows are then installed, except for the garage doors, which comes later. Our standard windows are a 3'x3' single-hung window; however, other sizes are available.
Following the windows and doors comes the installation of the roof steel over foil insulation.
Once the roof insulation is completed, the siding is then installed. Our standard siding on our post frame buildings in Ohio is 29 ga. steel metal.
After the siding is up, the crew then installs the corner trim, and any concrete the customer wants is poured at this time.
Next come the garage doors. All overhead doors on our farm buildings in Ohio require a minimum of 1' between the top of the door to the bottom of the truss. Standard residential overhead doors are 9' wide and 7' to 8' high. We offer a variety of different styles of garage doors.
To learn more about our standard building process on our farm buildings in Ohio, or to receive a free price estimate, give us a call at (855) 677-3334. MQS Structures is a family-owned and operated company specializing in custom pole barns in Ohio.
Different Ways to Use a Pole Barn
Wednesday, 22 April 2020 06:55
Ashley Johns
What do you think of when you hear the word "barn?" Most people tend to think of a structure that houses farm animals and equipment. However, barns can be used for much more than a home for horses. At MQS Structures, where we build custom pole barns in Ohio, we have seen people use their barns for a variety of things. Here are a few different ways to use a pole barn according to our custom post frame builders in Ohio:
Event Space
A notable feature of pole barns is the ample space they provide. This makes them an ideal structure for large events such as weddings and other large celebrations. With high ceilings, pole barns are perfect for allowing people to mingle with no obstructions in the way and without feeling claustrophobic.
Garage
Next to housing livestock, our builders commonly build post frame buildings in Ohio to serve as a garage. Pole barns make for excellent garages because they can be as large or small as you need and are very cost-effective structures. Pole barns can also accommodate large vehicles, such as RV's. It's the perfect place to store an RV during the months when you aren't using it.
Hobby Shop
Our custom pole barns in Ohio also make for great hobby shops. Whether your hobby is woodworking, automotive repair, working out, or painting, a pole barn can serve as your dedicated space for your hobby.
Man Cave/ She Shed
A fun way to use a pole barn is by turning it into a man cave or she-shed. Because pole barns are climate controlled and insulated, you can feel confident that the items and furniture in your man cave will be protected from exterior elements. Read our article on must have's for your man cave.
Storage
Lastly, post frame buildings in Ohio are great for storage. Like we just mentioned, pole barns are climate-controlled buildings, so you don't have to worry about any damage to your belongings. Check out more benefits of using a pole building in Ohio for storage.
To receive a quote for one of our agricultural buildings in Ohio, please give us a call at (855) 677-3334 or fill out our online form!
Make Your Pole Barn Energy Efficient
Wednesday, 15 April 2020 06:50
Ashley Johns
Environmental issues are a prevalent topic of conversation in today's society. Many people are going out of their way to find more sustainable products and make "green" apart of their lifestyle. If you're looking to construct a pole building in Ohio sometime soon, there are a few easy ways to make your pole barn energy efficient.
Insulation
For starters, post frame buildings in Ohio already conserve a decent amount of energy and are very sustainable structures. However, one way to gain even more energy efficiency in a pole building in Ohio is by installing a reflective radiant barrier under the roof. How does this help? Well, most pole barns lose energy through the roof and from the high ceilings. So, this barrier contains small air pockets that provides insulation between the outer roof and the vinyl coating.
Roof Color
One easy way to save a substantial amount of energy is by choosing a lighter color roof. A light color will help reflect the sun's rays and ultimately keep the interior of your farm buildings in Ohio cool. Choosing a light color roof is especially smart for those in warmer climates. However, in Ohio, you can get away with a darker color roof because of the weather we experience.
Features
Installing energy-efficient features, such as the doors and windows, is another way to keep custom pole barns in Ohio energy efficient. For instance, low-E glass windows are designed to keep energy inside a building. Fluorescent lighting is another feature you can include in your barn, as they use much less energy than other types of lighting.
For more tips on how to keep your agricultural buildings in Ohio energy efficient, give us a call at (855) 677-3334. MQS Structures is a leading post frame construction company building custom pole barns in Ohio. You can receive a quote from us by giving us a call or filling out our online form today!