Category Archives:
Uncategorized
Three Advantages of Post Frame Construction
Monday, 02 March 2020 06:35
Ashley Johns
Are you looking into adding a couple of agricultural buildings in Ohio on your property? If so, after doing some research, you'll quickly hear about something called "post frame construction," and there are many reasons why this construction process is ideal. If you plan on building a pole barn soon, here are three advantages of post frame construction.
Quick and Easy to Assemble
Building a barn is always an exciting thing, so of course you want it built as soon as possible! This is a significant advantage of post frame over other forms of construction, as a pole building in Ohio can be built very quickly. For example, construction time on our standard custom pole barns in Ohio typically takes less than a week.
Affordable
One of the main reasons why so many people prefer post frame construction for farm buildings in Ohio is because of its affordability. Since pole barns are very quick to construct, a full foundation isn't required, and they aren't made of concrete, you don't have to worry about breaking the bank on your new barn. 
Strength
In addition to being quick to assemble and affordable, post frame buildings in Ohio are extremely durable. In fact, it can be argued that post frame is stronger than other construction processes. This is due to placing columns in the ground to make the building more stable, as well as attaching the trusses to the post frame and using horizontal connecting posts to make the barn wind-resistant.
If you're planning to construct farm buildings in Ohio, we highly suggest looking into post frame construction. As you can see, there are many benefits of post frame, including easy assembly, affordability, and strength. For more information and to request a free quote, contact MQS Structures today. We are specialized custom post frame builders in Ohio.
Benefits of Pole Barn Wainscot
Thursday, 20 February 2020 06:23
Ashley Johns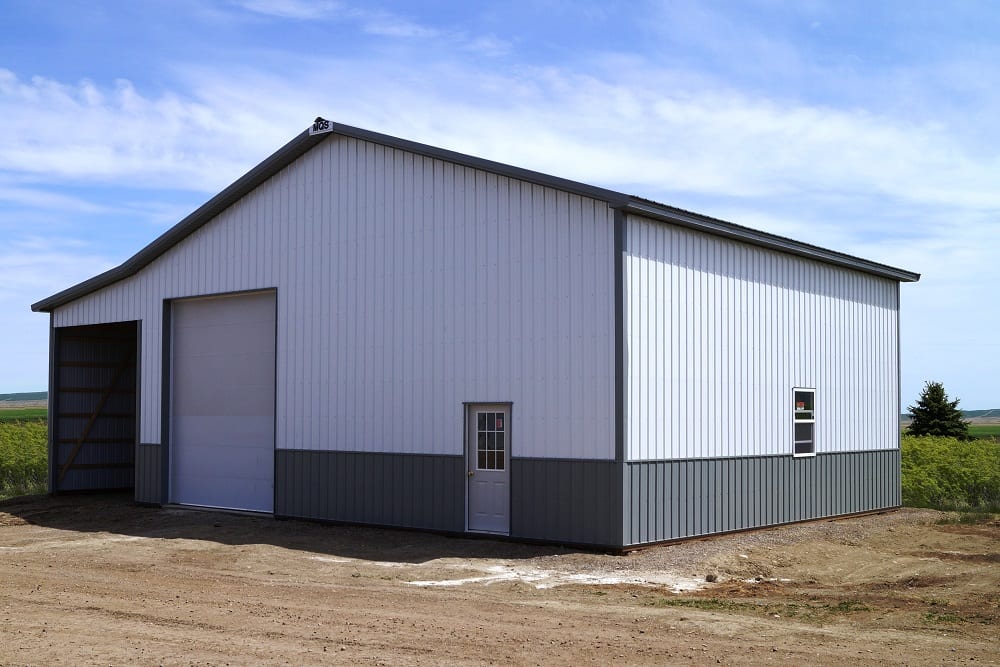 There are many features that encompass farm buildings in Ohio. One very common feature a majority of people choose to include in their barn design is wainscot. Wainscot is a steel panel that serves both functionality and ornamental attributes to the exterior of a pole building in Ohio. In this article, we're going to discuss just a few benefits of pole barn wainscot.
Protective Layer
The most common reason why people add wainscot to their agricultural buildings in Ohio is that it adds a layer of protection to the wall. This is great for when you kick up gravel driving a car or lawnmower too close to the building and end up leaving small dents in the metal. Rather than hitting the sidewall, it hits the wainscot instead.
Adds Visual Appeal
Next to adding a layer of protection, people love to add wainscot to their custom pole barns in Ohio because of the visual appeal it provides. Wainscot typically accents the rest of the barn by being a different color – usually the color of the roof. However, other options of wainscot include brick, stucco, etc. It's also important to note that a higher quality wainscot like stucco will add even more protection against dents.
Replaceable
Going off of the first benefit, damaged wainscot is easily replaceable. It is also much cheaper than having to replace an entire sidewall on a pole building in Ohio. Granted, it will depend on the type of material, as stucco and brick will be a bit more challenging to replace than steel.
For more information regarding wainscot and other exterior features for custom pole barns in Ohio, contact our custom post frame builders in Ohio. On our website you can even get a sneak peak at what your future pole barn will look like with our interactive color previewer. Check it out!
Save Money When Building a Pole Barn
Friday, 14 February 2020 06:19
Ashley Johns
A pole building in Ohio is a significant investment. Even though post frame construction is already a very cost-effective method, there are still a few easy ways to save money when building a pole barn with both upfront and long-term savings.
Choose Quality Material
The most critical and easiest way to save money on farm buildings in Ohio is by choosing quality material. While higher quality material will be more expensive upfront, you will save a tremendous amount of money down the road when you don't have to repair damaged parts. You will also rest easier knowing your pole building in Ohio will stand the test of time.
Install Wainscot
Wainscot is a very smart investment as it adds a protective layer from damage. For example, gravel can get kicked up by a lawnmower or car driving too close to a barn and leave small dents in the side of the building. It is much easier and cheaper to replace wainscot than it is to replace an entire sidewall on a pole building in Ohio.
Use Standard Features
At MQS Structures, we have distinguished ourselves by incorporating standard features into our custom pole barns in Ohio. Those features include:
Ridge ventilation
29 ga. steel roof, sides, trim
4′ O/C trusses @ 4/12 pitch
8′ O/C glue lam sidewall columns
2-ply truss supports
2′ O/C 2×4 roof purlins
2′ O/C 2×4 side girts
Treated 2×8 skirt at ground line
Steel rodent guard at the base
42″ post holes with concrete footings
Rebar through post to prevent uplift
By using these standard features, lengths, and widths, you can save a significant amount.
Hire Professional Custom Post Frame Builders in Ohio
If you are really looking to save money on agricultural buildings in Ohio, then it is highly recommended you hire a professional barn building company. They will not only use quality material but will also leave you with a barn that will last many years.
Why Hire Custom Pole Barn Builders
Monday, 10 February 2020 06:25
Ashley Johns
When you want to add a pole barn on your property, you basically have two options – buy a pole barn kit or hire custom post frame builders in Ohio. While a kit may seem more appealing to some due to the money savings, a kit may not be the most beneficial option. Here are a few reasons why you should hire custom pole barn builders for your project.
Experience
The first notable reason for hiring professional barn builders is their experience. There's a lot that goes into constructing a quality, well-standing structure from the site preparation to the actual construction process. By hiring a team of custom post frame builders in Ohio, you will receive a crew that has experience and know what they are doing.
Quality Material
A top reason why you should hire custom pole barn builders is because of the high-quality material they use. For instance, at MQS Structures, we are committed to building superior custom pole barns in Ohio by using more lumber, steel exteriors, steel doors, and trusses designed for local snow loads and 90 mph wind loads.
Warranty
A significant advantage of barns built by a post frame construction company is the warranty. Majority of pole barn kits are not under warranty, and if they are, it is very limited. This puts you out of luck if something ever happens to your barn. Meanwhile, farm buildings in Ohio built by barn companies are under multiple warranties. For example, every pole building in Ohio built by MQS Structures has a 50 year column warranty, 40 year steel warranty, 10 year garage door warranty, and 1 year workmanship warranty.
Fast Construction
The average construction time on standard agricultural buildings in Ohio is less than a week. It can be assumed someone putting together a pole barn kit with minimal construction experience will take much longer than a week to finish.
If you're looking to build a pole building in Ohio, don't just call anyone. For an experienced barn building company, contact MQS Structures.
Pole Barn for Storage
Monday, 03 February 2020 06:14
Ashley Johns
A pole barn can be used for a variety of things. Many people think farm buildings in Ohio are strictly for housing livestock or farm equipment; however, that is simply not true. Many of our customers come to us looking to build a pole building in Ohio to serve as a storage unit. Continue reading to learn more about the benefits of a pole barn for storage.
Spacious and Customizable
Unlike a shed, which is typically small, a pole barn gives you plenty of space to store whatever you need – from furniture to large tractors. With a pole building in Ohio from MQS Structures, you can customize your barn to whatever size you need it to be. Additionally, you can include many great features to customize it even more, such as the type of doors installed and flooring material.
No Paying Rent
With the amount of storage units available for rent out there, you may be wondering why you would need to purchase an entire barn. While custom pole barns in Ohio may be more expensive upfront, if you intend on using a storage unit for many years, you will likely save more money purchasing a garage hobby shop in Ohio rather than renting one.
Climate Control
A significant advantage of pole barns built by custom post frame builders in Ohio is that they are climate-controlled structures. There are many different methods to insulate a barn, depending on what comfort level you are trying to achieve. Examples include a condensation control barrier, a fiberglass wall and attic insulation, or even spray-on foam.
For more information regarding agricultural buildings in Ohio to be used for storage, contact MQS Structures today. We distinguish ourselves from other barn builders by providing our customer's high-quality structures and service from the design process to the barn completion.