Category Archives:
Uncategorized
Preparing to Build a Pole Barn 
Thursday, 01 August 2019 06:43
Ashley Johns
To construct a pole building in Ohio, site preparation is less extensive than other buildings, which makes it less expensive and more efficient. Before a pole barn is constructed, custom post frame builders in Ohio must first make sure that the site is leveled and ready to be built on. If you plan on getting a pole barn anytime soon, here is what you should expect when preparing to build a pole barn.  
Choosing a Site 
The first step is deciding where on your property you want your building to be. It's a smart idea that you consider room for future expansion. Many times we often see people wanting to expand their custom pole barns in Ohio, but chose to build on land that doesn't have additional room. 
Local Codes 
Before construction can even begin, you will need to check with your local building department on zoning requirements and if you need a building permit or not. This is super important to avoid getting in trouble with the law and whether or not your farm buildings in Ohio can be built where you want them to be.  
Site Preparation 
Once you have your site picked out and it meets local code requirements, it then needs to be ready for custom horse barn builders in Ohio to begin construction. This includes surface leveling, clearing the site of sod and vegetation, grade leveling, and planning for drainage.  
After the site is prepared and ready to go, custom post frame builders in Ohio will then have the okay to start building your dream pole barn. At MQS Structures, we are committed to providing you a building that will meet your needs at a competitive price. One advantage of our farm buildings in Ohio is more lumber! We want your pole barn to pass the test of time. 
Five Considerations To Make For Your Pole Barn In Ohio
Saturday, 20 July 2019 10:47
Ashley Johns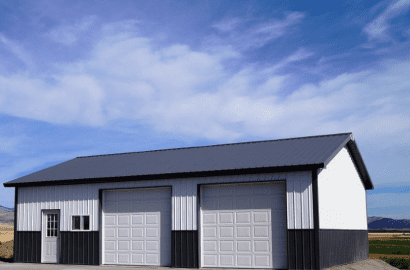 You've finally decided to build custom pole barns in Ohio, but where do you start? Fortunately, a pole barn is one of the easiest and fastest ways to construct a barn, but there are some factors you will need to make before starting construction. Here are five considerations to make for your pole barn: 
Your Needs
Before you build any pole building in Ohio, you first need to figure out your needs. Why are you building a barn? What are you using it for? Are you looking to build storage buildings, a garage, a hobby shop, or agricultural buildings in Ohio? Answering these questions is crucial in figuring out the rest.  
Permits/City Ordinances
Check with your city's building codes and ordinances. Some cities are more lenient, while others have strict requirements. For example, many buildings have to be a certain amount of feet away from the property line. Ensure you aren't breaking any codes, as it could cost you a lot. 
Location and Site Preparation
Where on your property do you plan on placing your building? Is the land leveled enough? Along with distance from the property line, another consideration to make for the construction process is making sure large construction equipment has a way to get in and off the property and that there's enough room for custom post frame builders in Ohio to actually build.  
Aesthetics
There are a lot of features you can choose to add to your pole building in Ohio. The purpose of your building will determine what you need to include. For example, farm buildings in Ohio that will house livestock will need to have either a garage door or large sliding doors to move large animals in and out.  
Choosing the Best Builder
Now that you have determined your needs for a pole barn, researched city codes, located a site, and have an idea for aesthetic features, it's now time to choose the best builder for the job. At MQS Structures, our custom post frame builders in Ohio are the best in the business and will work with you to ensure you receive your dream barn! 
Cleaning Checklist For Your Pole Barn In Ohio
Monday, 15 July 2019 10:46
Ashley Johns
Although custom pole barns in Ohio are designed to be a maintenance-free building, it is still a building and will require inspections to ensure it is running correctly. As custom post frame builders in Ohio, we want your pole barn to last as long as possible, which can be done with some casual maintenance projects. Here is a cleaning checklist for your pole barn we have put together. 
Check the Siding 
Because agricultural buildings in Ohio are made from steel, it is possible that the exterior siding gets dented or dinged up. This can occur from severe weather causing branches to fly and hit the siding, or tractors riding close to the building and kicking gravel up. Custom post frame builders in Ohio suggest adding wainscot to your pole barn, as it is much easier and cheaper to replace than siding. 
Lubricate Doors 
If your pole building in Ohio has sliding doors or garage doors, it may be a good idea to lubricate them every few years to ensure they are working properly and that no damage has occurred to them over the years. If you notice that the weather sealing has deteriorated, you can easily replace it yourself.  
Power Wash the Siding 
Over time, the exterior of your building will accumulate dirt and grime. Take care of it by power washing the siding every couple of years. This will ensure the dirt doesn't start tarnishing the surface and that your farm buildings in Ohio will stay in good condition for as long as possible. 
Clean Gutters  
A common forgotten maintenance task for barns is the cleaning and checking of the gutters. Ensure your gutters and drains aren't clogged with debris, as it will slowly start to destroy the building.  
For more information about agricultural buildings in Ohio, contact us at MQS Structures or follow along with our regular blog posts. 
Must Have's for Your Man Cave In Ohio
Wednesday, 10 July 2019 10:45
Ashley Johns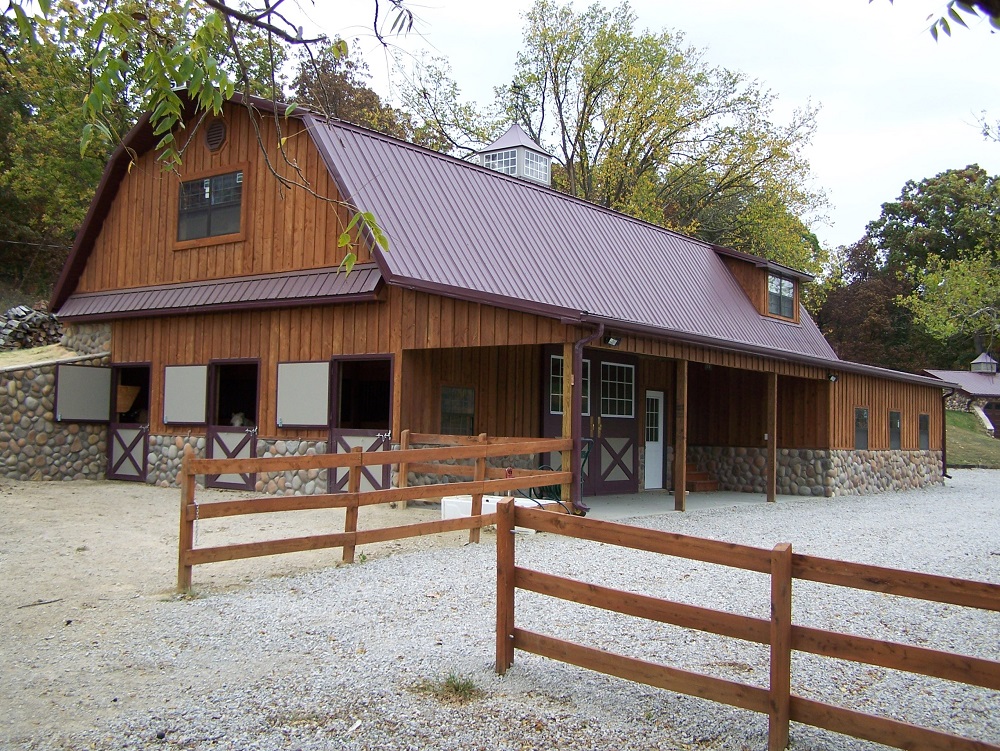 We all need a good place to go away and unwind for a while, and a "man cave" is the perfect place for just that (please note that a "man cave" isn't exclusive to just men). If you are looking to create a man cave for yourself, custom post frame builders in Ohio can build you the perfect space for your little oasis. Here are some must have's for your man cave: 
Mounted Flat Screen  
If you enjoy gaming and/or are a major sports enthusiast, mounting a flat screen TV on your wall is a necessity for your pole building in Ohio. Who needs to go to the actual game when you've got a nice 80" flat screen?  
Stocked Refrigerator  
There's nothing more pleasing than opening a stocked refrigerator of all your favorite food and beverages, right? 
Stove/Microwave 
You'll need something to cook all of those frozen pizzas from your stocked refrigerator.  
Loungeable Couch/Recliners  
A loungeable couch or recliner is absolutely necessary for a man cave/garage hobby shop in Ohio. Whether you're watching your favorite TV show or playing the newest Xbox game, you'll never want to leave your man cave.  
Gaming System/Games 
Speaking of Xbox games, hook up a gaming system to your flat screen and have the ultimate gaming experience. Not a video gamer? How about a pool table, poker table, darts, or classic arcade games?  
Wall Décor 
Make your custom pole barns in Ohio a little homier by hanging some cool wall décor. You can't go wrong with some neon signs or flags. 
Stereo System 
If you're looking to create the ultimate man cave space, wire in a stereo system to blast your favorite music when you have buddies over for game night.  
Well, are you ready to build your man cave? Our custom post frame builders in Ohio at MQS Structures will work with you to design and build your barn exactly how you want it. From man caves to agricultural buildings in Ohio, we do it all. Contact us today! 
Metal Roofing for Pole Barns In Ohio
Monday, 01 July 2019 10:42
Ashley Johns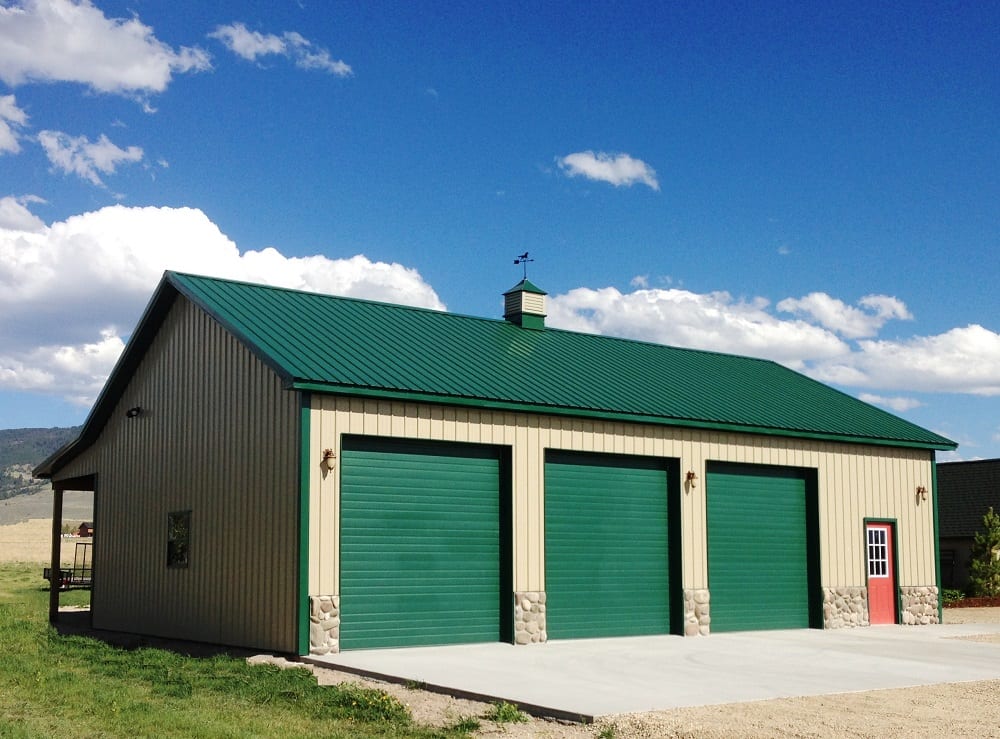 Custom pole barns in Ohio are used for a variety of reasons, such as agricultural needs, housing livestock, storage, garages, and "man caves." What you use your pole building in Ohio for is up to your personal preferences and needs, but no matter your reason, a metal roof for pole barns is the best option for roofing.    
Advantages of Metal 
Two of the most significant benefits of metal roofs for custom pole barns in Ohio is its minimal maintenance material and long life expectancy. Metal is the most cost-effective option for agricultural buildings in Ohio and is a much lighter material than other roofing options for pole barns, such as shingles, and is engineered for strength. Because of its high durability, you don't have to worry about your roof rotting, cracking, splitting, or curling like you may have to with shingles. Additionally, it is resistant to pests and environmental influences like mold. With a metal roof, you can expect it to last decades before it will need to be replaced. This is due to its durability, ability to withstand severe weather, and being fire-resistant. Lastly, metal roofs will also help reduce the energy costs of a building because of its ability to reflect UV rays. 
Disadvantages of Metal 
A main concern about metal roofs we hear as custom post frame builders in Ohio is the noise level; however, the noise level depends on insulation and proper installation. In addition to noise, metal is a more costly roofing option than other materials, but you can expect a metal roof to last much longer.  
Our custom post frame builders in Ohio highly suggest choosing metal as your roofing material for your next pole barn. There are more advantages than disadvantages of metal, plus it just looks great on any building! For agricultural, hobby shop, commercial, or farm buildings in Ohio, contact MQS Structures today.